How to do pick a good web designer?
Web designers should know more than simply how to code.
A good designer listens.
A good designer works to understand your vision and goals.
A good designer has  a willingness to create an ongoing professional relationship – rather than simply getting the job done and moving on.
A good designer has the ability to be a coder, advisor, site maintenance tech, and artist.
A good designer should posses additional skills to help you in things that aren't directly related to your design, but that will definitely impact your website – such as:
Proofreading your copy
Discussing edits
Site structure and menus that make your site easy to navigate
SEO knowledge tomake sure your site wording will have correct keywords for optimal search engine placement
Be knowledgeable about security for your website (firewalls, SSL, secure logins etc)
Understand internet trends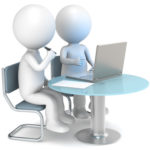 Working with the right designer and hosting service can transform the work of building your site into a fun and enlightening experience.
Your new website should embody your unique talents and vision, yet also should load quickly and be easy to access and navigate for a first-time visitor.
Is this your first website?  You're in the right place to get started!  We offer not only web design, but domain name registration, hosting packages, site maintenance services, security and SSL, shopping carts, custom graphics, custom audio… everything you need in one place.
And we've been doing all of this since 1995.

Maybe you've worked with a web designer in the past who just didn't "get" you, or who built the site they wanted, instead of the site you wanted.  Maybe they abandoned you once the site was done.
We hear these stories all the time!  Yes, there are countless web designers out there. Some are good at coding, but not so good at communicating.

Some are mediocre at building a site that really works.

Some make a nice design but leave your site vulnerable to spam and hacking.

That's why it's a great idea to work with a fellow cultural creative who understands how to translate your artistic vision into a professional web design.
Work with someone who respects your work and your vision… a fellow cultural creative  who knows what it's like to be a musician or an artist or a consciousness worker — and yet who also understands the left brain world of web design.